FACULTY SURVEY FOR BOARD OF TRUSTEES (BOT) FINAL REPORT
Susana M. Sotillo, BOT Faculty Representative 2000-2002
Four hundred ninety-seven (497) surveys were sent out last semester to faculty and librarians requesting their views on academic matters and other issues that influence learning and teaching practices at Montclair State University (MSU). Of these, 108 completed surveys, or 21.7% of the total, were returned before the extended deadline of January 25th. The faculty and librarians who responded to this survey expressed some very definite concerns regarding academic matters and quality of life issues. This report presents data summarizing the information obtained with respect to demographic characteristics, pedagogical issues, and specific academic concerns that affect teaching and learning at MSU. (Please refer to the survey in Appendix 1.)*
Demographic Characteristics
With respect to overall demographic characteristics, 58% or over half of all respondents were age 50 or older. A breakdown of age cohorts is displayed in Table 1 and percentages by age group are shown in Figure 1. The ethnic breakdown of those completing the survey is presented in Table 2. Figure 2 shows the percentage distributions by ethnic groups. For example, 75% of the respondents self-classified as white or Caucasian, 10% Latino, 8% African American, 6% Asian, and 1% other.
Table 1. Age
| | |
| --- | --- |
| Age | Number |
| Under 25 | 0 |
| 25-29 | 1 |
| 30-34 | 16 |
| 35-39 | 11 |
| 40-44 | 5 |
| 45-49 | 12 |
| 50-54 | 19 |
| 55-59 | 21 |
| 60 and over | 23 |
| Total | 108 |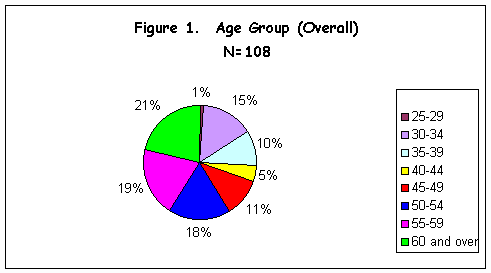 Table 2. Ethnicity
| | |
| --- | --- |
| Ethnicity | Number |
| African American | 8 |
| Asian | 6 |
| Latina/o | 10 |
| White | 80 |
| Native American | 0 |
| Other | 4 |
| Total | 108 |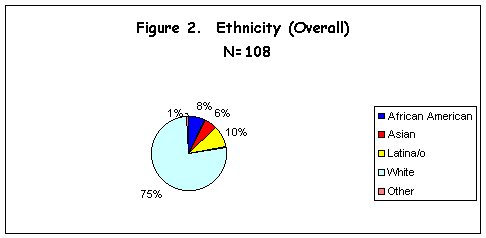 All schools were represented in this survey and separate summary charts were prepared for only those departments with four or more respondents. These included Mathematical Science, Computer Science, Earth and Environmental Studies, Curriculum and Teaching, Human Ecology, Economics and Finance, Fine Arts, Music, Theatre and Dance, English, Psychology, and Spanish and Italian. Overall, most of the respondents were from the College of Humanities and Social Sciences.
Table 3 and Figure 3 display gender characteristics of the respondents: 53% were male, 41% female, and 6% unknown.
Table 3. Gender
| | |
| --- | --- |
| Gender | Age |
| Female | 44 |
| Male | 58 |
| Unknown | 6 |
| Total | 108 |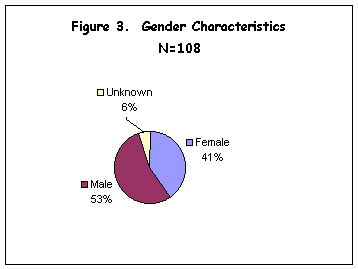 Academic Interests:
During the 2001-2002 academic year, 41% of the faculty responding to this survey were engaged in the scholarship of discovery, integration or aesthetic creation, 27% did not have FSIP released time, 21% pursued the scholarship of pedagogy, and 11% the scholarship of application. Figure 4 displays the percentage distribution and Table 4 the numbers in each of these FSIP categories. These percentages varied from department to department.
Table 4. FSIP Categories

FSIP

Number

Pedagogy

23

Discovery

45

Application

12

No FSIP

29
Issues Affecting Teaching and Learning Practices at MSU:
Table 5 shows the ratings from 1 (being not at all important) to 5 (very important) for each of 12 issues listed in question 6 that may affect teaching practices at Montclair State University. Averages for each of these issues were also calculated. The first 11 items were related to issues of pedagogy, academic requirements, student needs, and technology and resources. The last item permitted respondents to identify other issues of importance not listed in question 6.
Eleven items were identified as possibly affecting teaching and learning practices at MSU based on issues often mentioned on various MSU faculty Internet discussion lists or raised at departmental meetings. Although the importance of these issues varies from school to school, a majority of the faculty indicated that they were of concern to them. Their importance was rated on a scale of 1 to 5. Table 5 displays the 12 items/issues listed in question 6, rating percentages for each, averages, and number of responses.
Table 5. Issues Affecting Teaching

Issues that affect teaching

Scale

1

2

3

4

5

Average

a. New general education requirements

10.3%

12.1%

18.7%

29.9%

29%

3.6

N=107

b. Meeting the classroom needs of students with special needs

2.8%

17.8%

39.3%

23.4%

16.8%

3.3

N=107

c. Acquisition of discipline specific software and hardware

9.3%

12.1%

29.9%

28.0%

20.6%

3.4

N=107

d. Library resources and databases

2.8%

4.6%

22.2%

30.6%

39.8%

4

N=108

e. Classroom technologies (wired and wireless)

6.5%

6.5%

16.8%

34.6%

35.5%

3.9

N=107

f. Distance education

36.1%

21.3%

21.3%

12.0%

9.3%

2.4

N=108

g. Intellectual property rights

9.3%

16.8%

30.8%

20.6%

22.4%

3.3

N=107

h. Student internship requirements and their relationship to course credit hours

24.1%

17.6%

25.9%

19.4%

13.0%

2.8

N=108

i. Integration of technology into educational pedagogy and flexible access to training in technologies

5.6%

3.7%

28.7%

29.6%

32.4%

3.8

N=108

j. Assistance with grants writing

14.0%

11.2%

16.8%

29.9%

28.0%

3.5

N=107

k. Provision of state-of-the-art hardware and software to students and faculty

5.6%

4.6%

11.1%

32.4%

46.3%

4.1

N=108

l. Other Issues (please specify)

0%

0%

0%

5.4%

94.6%

5

N=37
Figure 5 shows the distribution of percentage rating for each of the 12 issues listed in question 6 in Appendix 1.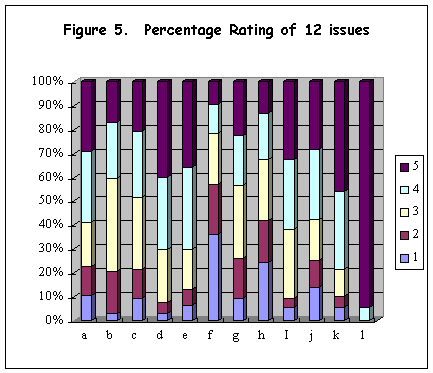 Question 7, the final question of the Faculty Survey, asked respondents to identify the three most important issues listed in question
6 that they believed affected their teaching and learning practices at MSU. Respondents identified three issues as being most important in their pedagogical practices. These are displayed in Figure 6 and include the following: (i) the integration of technology into educational practices and flexible access to training; (d) access to library resources and databases; and (e) availability of wired and wireless classroom technologies.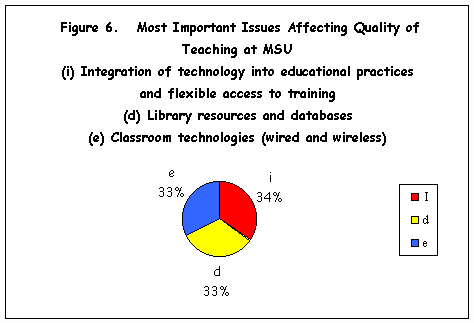 Other Issues Identified by Faculty that Affect their Teaching Practices:
Thirty-seven (37) respondents identified other issues that were not listed in question 6 as affecting their teaching, research, and general outlook. These issues generally fall into one of four categories: quality of life issues, contractual issues, academic issues, and administrative issues. Comments and examples of issues and concerns specified by the respondents are presented in Appendix 2. Figure 7 displays these qualitative results.
Given the recent disruptions of traffic patterns experienced by faculty and students due to the construction of new facilities and a parking garage, it was surprising to see that academic issues, other than those listed in question 6, were identified as being more important than quality of life, contractual, or administrative issues. Academic issues comprised 46.8% of the important concerns identified by 37 faculty members who provided explicit written feedback. This was followed by quality of life issues, administrative issues, and contractual issues.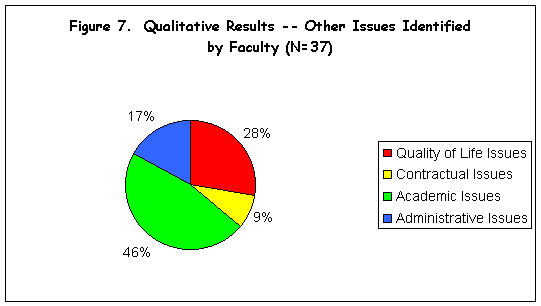 Some of the academic issues identified by faculty members as affecting their teaching at MSU and not listed in question 6 included inadequate scheduling of courses and excessive committee work that left little time for course improvement. The following are some general comments included in item 12: "allocation of sufficient time for the development of new courses"; "block scheduling negatively affects language teaching practices"; "freedom to give grades without their being changed by the administration"; "lack of commitment from the student's part to learning"; and "classroom assignment: often relegated to '19th century' classrooms while 'smart classrooms' are often given to people who do not use technology."
Parking and inadequate classroom space are among the most important quality of life issues identified. With respect to contractual issues, alleged discrimination against gay/lesbian employees and biased promotion and tenure practices were listed as being most important. Finally, administrative issues identified included the need for more teaching assistants to support faculty teaching service courses, support from the administration for faculty decisions regarding students, and adjunct space issues and needs.
Conclusion
This has been an exploratory survey of faculty needs, issues, and concerns by the outgoing Faculty Representative to the Board of Trustees. Though ideally a 50% rate of return would have been desirable, the data obtained from the surveys returned indicate that faculty members strive to provide excellent educational experiences for their students. In order to accomplish these goals, faculty see the need for the integration of technology into educational pedagogy and request that the administration provide flexible access to training. In addition, they see first-rate library resources, databases, and the provision of manageable and reliable classroom technologies as essential to creating an intellectually challenging learning environment that makes teaching excellence a reality.
We hope that the President and Board of Trustees continue to encourage and provide both moral and financial support for faculty development, the formation of non-traditional learning communities, the internationalization of the curriculum, technological advancement and transformation, and cutting-edge research and pedagogical innovations.
April 11, 2002

*I would like to thank Dr. Lise Greene for her valuable feedback, and Dr. Jane A. Zeff for providing the frequency counts and calculating departmental averages.
Appendix 1
FACULTY REPRESENTATIVE TO THE BOARD OF TRUSTEES SURVEY
Professor Susana Sotillo, Faculty Representative
The Faculty Representative to the Board of Trustees has varied duties. One of the most important is sitting with the Academic Program Planning Committee. The following survey asks for your opinion/input about academic matters. I believe the summarized results from this survey will be very helpful to me when I meet with the Committee. Please take a few minutes to check the appropriate boxes [x] for each question.
Please tell me about yourself:
1. What is your primary or home department? ______________________________
2. Which age group describes you?
[] under 25
[] 40-44
[] 25-29
[] 45-49
[] 30-34
[] 50-54
[] 35-39
[] 55-59
[] 60 and over
3. Which ethnic/racial group best describes you?

[] African American [] White

[] Asian [] Native American

[] Latina/o []Other (please specify) ____________

4. Are you: [] Female [] Male
Please tell me about your academic interests:
5. During this academic year, which FSIP category best describes your interest area?
[] Scholarship of Pedagogy

[] Scholarship of Discovery, Integration or Aesthetic Creation
[] Scholarship of Application
[] Do not have FSIP released time
- please turn page -
6. The following is a list of issues that may affect your teaching at the University. On a scale of 1 to 5 (with 1 being not at all important and 5 being very important), please rate each item.
Item

Scale

a. New general education requirements

1

2

3

4

5

b. Meeting the classroom needs of students with special needs

1

2

3

4

5

c. Acquisition of discipline-specific software and hardware

1

2

3

4

5

d. Library resources and databases

1

2

3

4

5

e. Classroom technologies (wired and wireless)

1

2

3

4

5

f. Distance education

1

2

3

4

5

g. Intellectual property rights

1

2

3

4

5

h. Student internship requirements and their relationship to course credit-hours

1

2

3

4

5

i. Integration of technology into educational pedagogy and flexible access to training in technologies

1

2

3

4

5

j. Assistance with grants writing

1

2

3

4

5

k. Provision of state-of-the-art hardware and software to students and faculty (e.g., laptops, personal desk assistants, etc.)

1

2

3

4

5

l. Other issue (please specify) _________________________

_______________________________________________

1

2

3

4

5
7. Which of the 12 items listed in question 6 would you say are most important in affecting your teaching?

______ ______ ______
Thank you very much for your assistance. Please return this survey by December 20, 2001 to:
Susana M. Sotillo
Linguistics Department, Dickson Hall 119
Montclair State University
Upper Montclair, NJ 07043
Sotillos@mail.montclair.edu (973) 748-5011

Survey ID #: ______

__

Appendix 2

Quality of Life Issues
Developing a realistic college climate for students and faculty

Inadequate facilities Routine maintenance of facilities is not being done Getting classrooms that have decent blackout for showing slides/images Not enough parking space Small classrooms Overheated classrooms Lack of maintenance of classrooms Inadequate classroom size (2 comments) Classroom with decent appearance and windows that can be closed

Full availability of instructional equipment in each classroom such as overhead and data projectors

Obsolete classroom equipment should be replaced

Parking (2 comments) Parking gates, fines, lot space waste Equipment other than information technology Better facilities for Fine Arts Allocation of classroom properly equipped to teach art history

Contractual Issues

Lack of adequate compensation Grants funding General education course development Promotion and tenure favoritism Promotion process is biased Promotion process that is not divisive Promotion process is very discouraging and leads itself to abuse Promotion, tenure is unfair MSU discrimination against gay/lesbian employees (provision of spousal health benefits)

Academic Issues

Large class sizes don't encourage intellectual curiosity Inadequate scheduling of courses Too much committee work and lack of time for course improvement Graduate education concerns Integration of research into curriculum Block scheduling negatively affects language-teaching practices Graduate education needs to be addressed Development need for computer equipment Allocation of sufficient time for the development of new courses A general education requirement that was rigorous and made sense would be nice Released time for online course development Erosion of space available to specific programs that require special equipment Class availability for students, student preparation for coming to MSU We need to raise our admissions standards Doctoral program, many related issues to this and Graduate Education at Montclair Required ESL placement testing and exit testing Tutoring for students experiencing academic problems Over reliance on technology, over traditional teaching methods Classroom allocation and scheduling ESL training to be improved (much more important than all technology issues) Lack of commitment from the students part to learning Freedom to give grades without their being changed by the administration Attention to standards, enrollment management Classroom assignment: often relegated to 19th century classrooms while smart classrooms are often given to people who do not use technology
Administrative Issues
Hiring decisive support staff

Purchasing new equipment The job of the BOT is to do something about the declining funds for higher education in general Recruitment of a more diversified faculty (along ethnic lines) Serious understaffing in Italian; more adjunct faculty TA support to assist those faculty teaching service courses who are actively working with community partners in the local community Administration supportive of faculty decisions regarding students