Norwich Cathedral
This photo is a "clickable map." If your browser supports them, you can click on different parts of the photo to go directly to the major sections of the Table of Contents. If it does not, use the regular TOC below.
Medieval Literature and History Page
---

Allen Wright's Robin Hood Page. Excellent page with much fascinating information about the legends.

My 1979 Ph.D. dissertation, The Quarrel of the Roman de la Rose and Fourteenth Century Humanism, is now on the web.
Welcome to my page of Medieval links on the WorldWide Web!
The first group of sites provide links to just about everything available. I've put the other links here so that you (and I) won't have to hunt through several levels of screens on one of the first group of sites in order to find what we are looking for. If there is something you want that's not here, search the links in the first group.
A note about the illustration: it's a commonplace for works on the Middle Ages to reproduce medieval MS illustrations or other artwork of the period. These almost without exception give the perspective of (a) a medieval person's view of the Middle Ages; a nd (b) an elitist interpretation of whatever is illustrated.
I take our challenge to be to give a contemporary, more scientific, more objective interpretation of the Middle Ages and its culture. Accordingly, the illustration is a contemporary photograph of a Medieval cathedral: an interpretation using modern te chnology to make the Middle Ages understandable in terms meaningful to us today.
---
Table of Contents
This page has seven major sections. You can "jump" from each section heading in the Table of Contents below to the corresponding section, without having to scroll down the whole page. At the end of each section there is a link, marked (TOC), which will b ring you back to this Table of Contents.
---
Basic Medieval Resources on the WWW

The Labyrinth
This is the Medieval link basic to all others. Located at Georgetown University and constantly growing, it aims to have links to all Medieval resources on the World Wide Web. Whatever you are looking for, you can always start here.
Another very useful, large collection of Medieval WWW resources is:

NetSerf
A large, unannotated "jump page" of Internet Medieval resources, from Catholic University.

YAHOO's Medieval Studies Links. From the WWW Search engine Yahoo.
Yet another very new but excellent resource, focusing on Medieval History but including Islam, Spain, and recent historical approaches, as well as many texts, is by Paul Halsall at Fordham University:

The Internet Medieval Sourcebook. This is a very large resource; go through it slowly. There are many very useful primary sources -- texts -- which make it virtually an "on-line textbook" of readings on many subjects for medieval history and culture.
You could also check Paul's other Medieval pages, his


Medieval History course, as well as his excellent collection of


Medieval Web Sites.

Medieval Studies Resources -- Oxford University. This will be an important site, with links to Medieval initiatives in the UK as well as in the US.

The ORB. This site will eventually link you to lots of Medieval texts and reference materials, and there's quite a bit up there now! Check it out for reference works; articles on historical topics in the MIddle Ages; and other materials.
Virtually any useful Medieval sites will eventually be linked to these resources. What I have done below is to select a few that I have found useful or just interesting. But it is worthwhile just "browsing" around on The Labyrinth, Libellum Mundi, and The Medieval History Page, to see what you can find. And they all add new links continually.

Medieval Academic Discussion Groups
This list is maintained by Professor Edwin Duncan of Towson State College, whose excellent Chaucer Page is in the section below. It's kept up-to-date and aims to list all mailing lists (also called "listservers") and newsgroups dealing with the Mid dle Ages.

World History Links, by Robert Schiller, aims to be the most complete list of links to history sites on the Web, and it's got to be pretty close to it! Check it out.

Guide to Medieval and Renaissance History, by Melissa Snell, at the Mining Co. site (one of many interesting 'rings' of sites). Ms Snell's enthusiasm for the Middle Ages is infectious, and she keeps an eye out for new Medieval sites on the web, while writing short essays with hyperlinks on medieval topics. She also hosts a discussion forum, and you can sign up for updates to the page. Definitely worth a visit for any enthusiast of the Middle Ages!
Finally,


ARGOS, the "Limited Area Search of the Ancient and Medieval Internet", a Search Engine that specializes in the Middle Ages on the 'Net, and a good resource.
---

The Electronic Canterbury Tales, together with The Chaucer Pedagogy Page. Dan Kline, University of Alaska. A great resource!
The Canterbury Tales Project, by Oxford, Sheffield, De Montfort, and Brigham Young Universities. A growing site, with links to others.

The Complete Canterbury Tales (U. Pennsylvania).

The Canterbury Tales - Main Page, from the University of Virginia. From this page you can jump to any one of th e Tales you want to look at or download.

The Geoffrey Chaucer Website Homepage. Harvard University. An extremely useful site!


Edwin Duncan's Chaucer Course
Taught at Towson State College in Maryland. Duncan is a leading contributor to CHAUCER, the Middle English listserver.

Alan Baragona's Chaucer Home Page
Professor Baragona of VMI is another leading contributor to the CHAUCER listserver.

Geoffrey Chaucer - Texts. Another great edition! This is part of the Geoffreychaucer.org page, with many wonderful links.
Here is the full text of

Saint Jerome Against Jovinian, a classic antifeminist text used by Chaucer: Part I; Part II.
---
Middle English Literature (excluding Chaucer)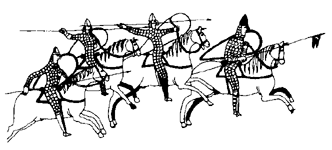 Knights in battle

The Robin Hood Project
From the University of Rochester, which also hosts:

The Camelot Project
This is the Main Menu page, with links to the others. We also have:

Here is a link to the complete text of Sir Gawain and the Grene Knight in its Middle English original, again from the University of Pennsylvania.

Medieval Resources on the Web, by Prof. Lawrence Warner, University of Pennsylvania, who also does the next resource:

The William Langland Home Page.
And here is an earlier Langland Home Page NOTE 11.12.03 - I can't find Prof. Warner's page on the UPenn site any longer. This link is to the Internet Archive version, saved in August, 2003.

Medieval On-Line Literary Resources, by Prof. Jack Lynch, also of U. Penn.
While we're on the subject of Piers the Plowman, check out the


Piers Plowman Electronic Archive, by Hoyt Duggan, U. VA.
This will eventually be the site for the critical study of the many variant texts of PP, and is already a groundbreaking enterprise.

Anthology of Middle English Literature. This site contains scholarly essays on Chaucer; Sir Gawain; Piers Plowman; Medieval Lyrics; Medieval Drama; Ballads; Julian of Norwich; Margery Kempe; Malory's Morte d'Arthur; Everyman.
This is a wonderful resource for students. Be sure to browse the essays.

Middle English Romances -- a Website for the Norton Critical Edition. Good material on the minor romances (excludes Sir Gawain).

The Middle English Collection at the Electronic Text Center, U. VA. The main site for present and future on-line texts of MEL.

The Lollard Society Home Page, devoted to the followers of John Wycliffe, the most important heretical movement in late Medieval England, and one that left its mark in English Literature as well.

For historical background to this fascinating period, please check out the sections of Paul Halsall's Internet Medieval Sourcebook, in Section One above, on "Medieval Life and Thought", subsection Criticism of Society -- Heresy and Mendicancy. Also, please take a look at Prof. Halsall's texts from "The Late Middle Ages," The Calamitous 14th Century.
Also, see the following:

Piers Plowman, from the University of Virginia Electronic Text collection. Choose any of the Passus from this page.

To see other similar projects, check out the IATH: Institute for Advanced Technology in the Humanities, at the University of Virginia.

Search all Middle English Texts at the University of Virginia Electronic Text site. A very useful facility (see the similar search engine below, too).

Search Middle English Texts at the University of Michigan's Corpus of Middle English Prose and Verse.Use this in conjunction with the UVa Search Engine above.
I'd be very interested in a comparison of these two engines. If you have any observations, please email me about them, and I'll add them as annotations to this page.
---
Some of these links are very interesting. Try them!

The Texas Medieval Association Home Page by Edwin Duncan, whose Chaucer Page is listed above.

The Richard III Society Page
Originally devoted to improving the image of King Richard III (reigned 1483-85) so maligned by Shakespeare, this organization is now devoted to study of the Wars of the Roses and late Medieval England generally. There is a link to the Labyrinth here, too.

Edwin Duncan's Home Page with some interesting links.

Boccaccio's Decameron
The text of Boccaccio's classic, on the Virginia Tech gopher server.

The Decameron Web Site, Brown University.
The premier link to Boccaccio's great collection of tales.

Boethius. From John J. O'Donnell's Page, U. Penn., comes this major site on Boethius, with The Consolation of Philosophy in both Latin and English texts, as well as material on Boethius' other lesser-known works.

The Virtual Library of Medieval Studies
Part of The Labyrinth at Georgetown University.

The Online Medieval and Classical Library (OMACL
Lots of texts available on-line (or you can print them out).
Perhaps the most useful thing about online texts is your ability to perform searches of various kinds. Try downloading a text and using the search commands in your editor -- e.g. 'Command Line - find' on VMS -- to find how often certain words or co ncepts occur.

Byzantium: The Byzantine Studies Page
By Professor Paul Halsall of Fordham University, one of the leading contributors to MEDIEV-L, the Medieval History listserver.

Medieval Literature Page

The Crumb Library Guide to Medieval Resources (Potsdam State University, N.Y.)

Medieval Materials, University of Pennsylvania Library
A large collection from a major collection of Medieval materials.

Medieval Literature Page at CUNY
---
Some resources on Medieval Literature other than English:

The Middle High German Conceptual Database: Information This is the major link to medieval German literature and language materials; at the University of Heidelberg.

Literature in Medieval French In French (for the most part).
---
Journals,Criticism and Other Resources

A Glossarial DataBase of Middle English: The Canterbury Tales , at the University of Michigan; also useful, though not complete. It gives the grammatical category of the word and its occurrences in the Canterbury Tales, but not the dictionary meanings.

Index of Cultural Friction Papers
Online papers from a Fall 1995 conference that encouraged the application of postmodern and post-structuralist critical theories to medieval subjects. Read one or two and see what you think! From The Labyrinth at Georgetown.

Exemplaria: A Journal of Theory in Medieval and Renaissance Studies
The on-line version of this journal, at the University of Florida.

Articles on Middle Ages and Renaissance
From Indiana University, which also has the following:

Medieval and Renaissance Manuscripts
See what they look like!
---

The Monarchs of Great Britain
Just the thing if you like pictures!
More useful is the following site:


EuroDocs: Western European Primary Historical Documents Historical documents from Brigham Young University.
The Home Page takes a few minutes to load because of the large graphic, so you might want to go directly to the Medieval and Renaissance page.

'The Labyrinth': Resources for the Study of Medieval History
A direct link to The Labyrinth's page of medieval history resources.

Medieval History Page at University of Washington

Basic Research Tools for Medieval History
An advanced research bibliography originally posted by graduate student Karen L. Green on the MEDIEV-L listserv.

Influential Twentieth-Century Books in Medieval History
A list of books recommended by those on the MEDIEV-L listserver in 1994.
---
Medieval Art, Music and Culture

Gregorian Chant Home Page from Princeton University.

The Très Riches Heures of Jean, Duc de Berry
One of the richest of late medieval art works, a prayer book written for the brother of the King of France in the early 15th century. The illustration for March -- a peasant plowing the field dominated by o ne of his lord's fortified castles -- is an astounding and accurate image of the economic, political and cultural relations of the Middle Ages.
Have patience -- it may take as long as two minutes to load. But it's worth it!

The Bayeux Tapestry Home Page
A cloth woven to illustrate the Battle of Hastings in 1066, when the forces of Duke William of Normandy defeated those of King Harold of England -- the Norman Conquest.
My Other Web Pages:

PLEASE! Contact me with your suggestions.
---
http://chss.montclair.edu/english/furr/medieval.html | Email me | Last modified 1 Dec 09