Intrusion Detection by Using Deep Neural Networks
We propose a deep neural network infrastructure to detect network intrusion attacks.
To cope with the imbalanced distribution of various types of attacks, we propose a novel loss function that eliminates the bias towards the majority class.

Related publications:
Cyber Intrusion Detection by Using Deep Neural Networks with Attack-sharing Loss. IEEE International Conference on Big Data Intelligence and Computing (IEEE DataCom 2019). Kaohsiung, Taiwan. [Paper][Bibtex][Presentation]
---
Privacy-preserving Crowdsourcing
We protect the privacy in the setting of crowdsourcing in two ways.
First, we protect task privacy by designing a task assignment strategy that minimizes the risk of information disclosure in the existence colluding workers.
Second, we protect worker privacy by designing an answer perturbation mechanism to provide local differential privacy.

Related publications:
Sensitive Task Assignments in Crowdsourcing Markets with Colluding Workers. IEEE International Conference on Data Engineering (ICDE 2018). Paris, France. 2018. [Paper] [Bibtex]
Truth Inference on Sparse Crowdsourcing Data with Local Differential Privacy. IEEE 2018 International Conference on Big Data. Seattle, WA. 2018. (Acceptance Rate: 99/518 = 19.1%) [Bibtex]
---
Integrity Verification of Outsourced Approximate Record Matching
We design a new authentication and indexing data structure--Merkle Bed Tree (MB-Tree in short), which obtains Merkle tree's authentication functionality and preserves Bed tree's indexing property.
The server constructs verification objects (VOs) by traversing the MB-Tree and visiting the Euclidean space to prove the result's soundness and completeness.
The client's verification cost is very small because of MB-tree's pruning power and the cheap Euclidean distance computation cost.

Related publications:
Efficient Authentication of Approximate Record Matching for Outsourced Databases.
Information System Frontiers, 2018. (Impact Factor = 3.232)
[Paper] [Bibtex]
EARRING: Efficient Authentication of Outsourced Record Matching.. The IEEE International Conference on Information Reuse and Integration (IRI). San Diego, CA. 2017. (Acceptance Rate: 29%). Best Paper Award [Paper][Bibtex]
---
Frequency-hiding Dependency-preserving Encryption for Outsourced Databases
We define two security models: &alpha-security against frequency-analysis attack, and indistinguishability against functional dependency preserving chosen plaintext attack (IND-FCPA).
We design a frequency-hiding FD-preserving probabilistic encryption scheme that provides strong security guarantee, while preserves the utility in the encrypted dataset.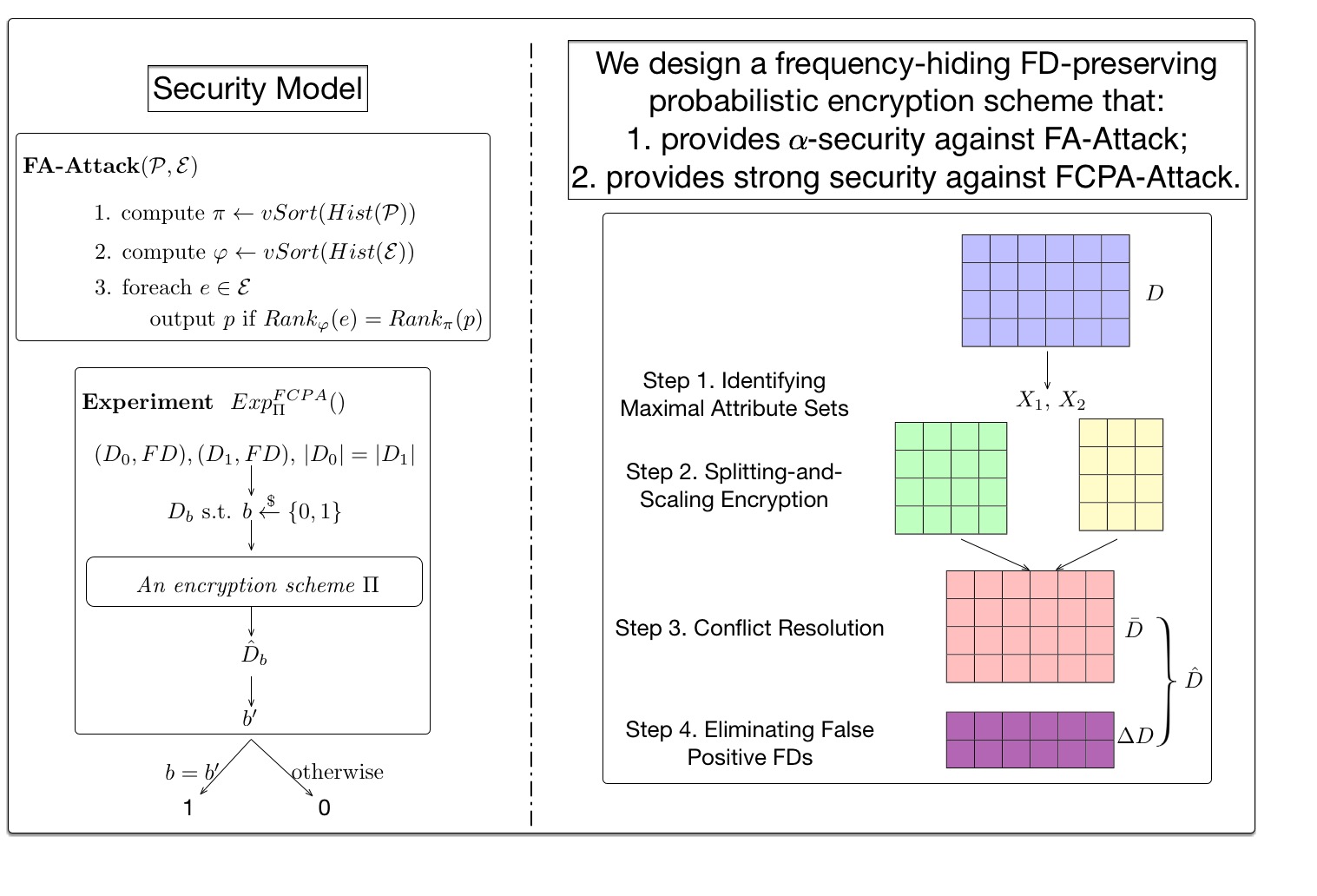 Related publications:
---
Efficient Intrusion Detection in Large Enterprise Networks
We model the system events in every host as a multipartitie graph of interactions between processes, sockets, and files.
We apply random walk on the graph to learn the routine behavior of each system entity based on a transition probability model.
We label an event sequence as abnormal if the behavior of any involved entity largely deviates from its routine role.

Related publications:
Patent application:
Graph-based Instrusion Detection Using Process Traces. (Publication number: WO2017019391 A1).
---
Privacy-preserving Data Deduplication-as-a-Service.
In order to defend against the frequency-analysis attack in the outsourced data-deduplication services, we propose two approaches.
The LSHB approach based on Locality-Sensitive Hashing (LSH): The constructed LSH values preserve the string similarity, while they are of the same frequency groupwise.
The EHS approach encode strings as Euclidean points. The points of similar strings are close in the Euclidean space. At the same time, they have uniform frequency distribution.

| | |
| --- | --- |
| | |
| LSHB approach | EHS approach |

Related publications:
---
Integrity Verification of Outsourced Frequent Itemset Mining.
We aim at verifying if the untrusted server returns the correct and complete frequent itemset mining result.
To accomplish the goal, we require the server to return cryptographic proofs to show the support of the itemsets. The proof is based on the Secure Set Intersection Protocol.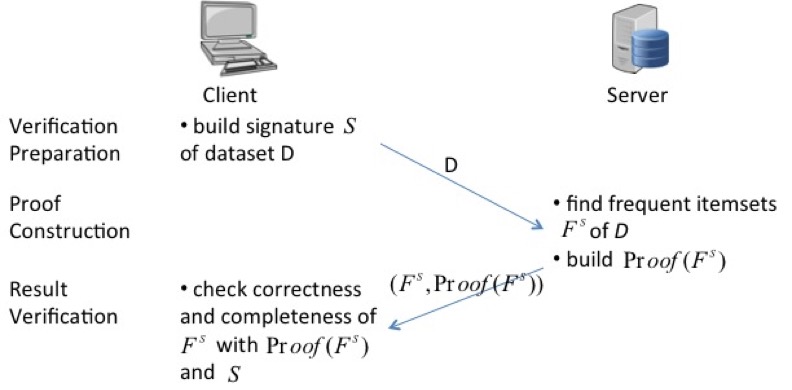 Related publications:
Trust-but-Verify: Verifying Result Correctness of Outsourced Frequent Itemset Mining. IEEE Transactions on Services Computing. 2015.[Paper][Bibtex]
Integrity Verification of Outsourced Frequent Itemset Mining with Deterministic Guarantee. IEEE International Conference on Data Mining(ICDM). Dallas, Texas. 2013. [Paper] [Bibtex]